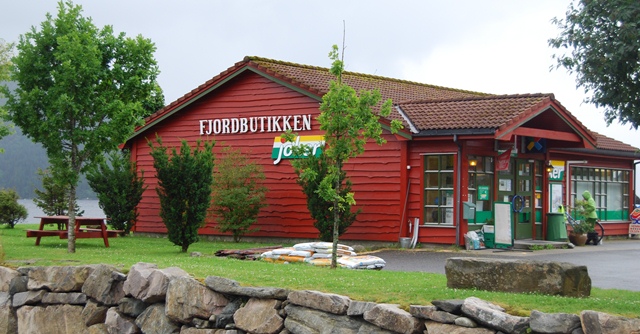 The Merkur programme is financed by the Ministry of Local Government and Regional Development and receives about 60 million NOK per year (2023). Its prime focus is retailers in areas with population decline and long distances to other retail opportunities. Many of these retailers are in delicate financial situations for lack of regular or sufficient cash flow.
The programme has the following goals:
To facilitate the maintenance of good quality service provision.
To ensure access to a grocery store near homes.
It offers competence to retailers through 10 counsellors located all over the country and these fulfil a range of services aiming to support business development. Advice can be provided on how to obtain better bulk prices when ordering products, how to choose products, devise new product or service offerings. It extends to cooperation with existing private and public organisations like postal services or betting (Norsk Tipping) and tourist information services. Often, Merkur counsellors help the retailers by mobilizing the community to support the local shop by sufficient purchases to try and counterbalance the attraction exerted by shopping centres in nearby towns and cities.
So far 1000 retailers from around 800 local areas have applied for the programme. Not all retailers in areas with population decline apply for the programme. Due to their strategic location within a community and in particular a central position offering the possibility to easily cater to tourists, some retailers are able to make enough profit without any further help. Shops who are in the programme however are better off, and have a more positive development than most small shops who are not within the program.
The last years there has been an increasing need to further strengthen the rural retailers in the Merkur-program. This is now being done with an own support scheme. This support will help the most marginal retailers modernize and able to compete with the larger shops.
Since 2008 book retailers have also been a part of the Merkur-program. Merkur-Book is a program for rural book retailers in the Norwegian periphery. The program is offering the retailers to build competence and network to make them more profitable. The program has the same structure as the regular Merkur-program with some alterations to fit their market and business.
From 2019 Merkur programme became a part of The Centre of Competence on Rural Development (Distriktssenteret).This is a government agency dedicated to strengthen rural municipalities and regions' ability to develop attractive communities.
Contact
MERKUR-programmet, Distriktssenteret, Skolegata 22, 7713 STEINKJER
Chief Executive: Steinar Fredheim
tel: +47 481 68 274
steinar.fredheim@kdu.no
Senior Advisor: Per Kjetil Jørgensen
tel: +47 473 44 487
per.kjetil.jorgensen@kdu.no